DETAILS
Ashley and Dino purchased a plot of land originally to build a house but during the process they had a change of heart and decided to buy an old RV to renovate into a beautiful tiny home. While the family of 5 was searching for an RV, they came across a 2003 Cougar Keystone which they were instantly sold on. The biggest selling point - triple bunk beds in the back for their three young children. With their ambitious hearts, and less than $3000, they built out the entire RV in 3 weeks.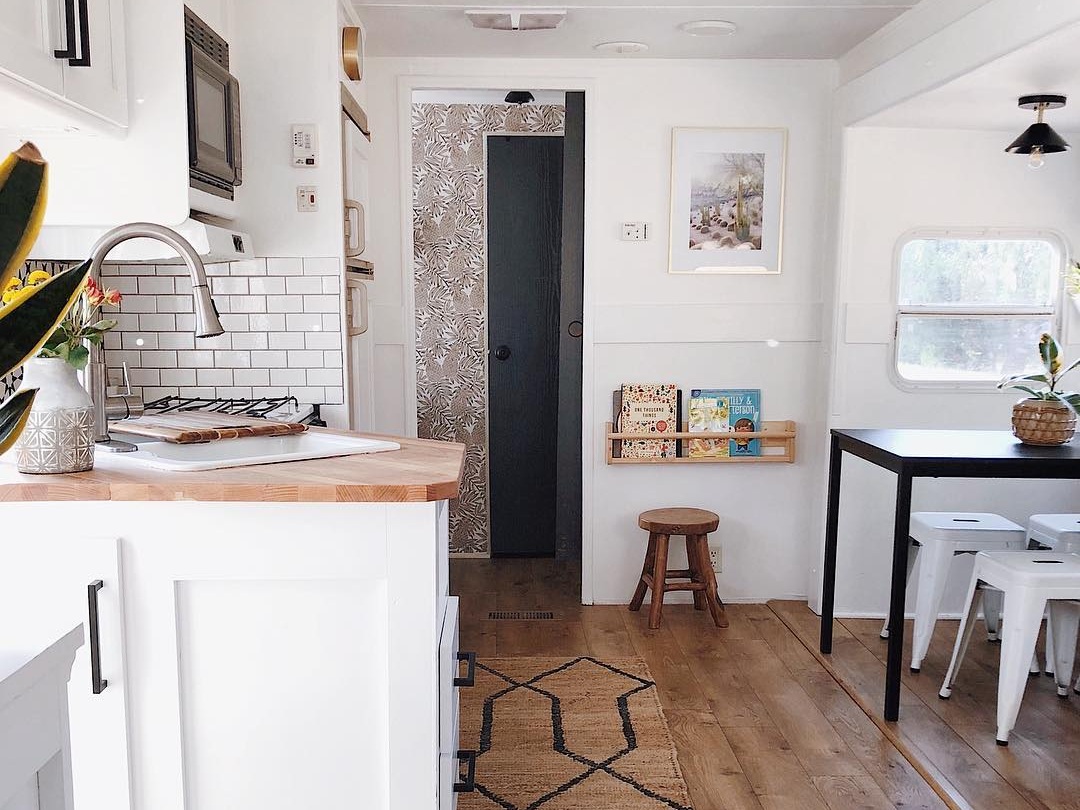 DETAILS
Ashley and Dino wanted to build out the RV as efficiently as possible, so they gathered as much repurposed materials and thrift store finds to fill their home at a small cost. The first thing you notice when you walk into the space is how vibrant and airy the space feels. They brightened up the old dark finish to an illuminant white which, to the eye, expanded the space and gave it a fresh modern feel. By ripping out a lot of the old cabinets and storage areas, they were able to create more living space which was absolutley necessary for their growing family.
DETAILS
Whether you're whipping up meals, washing dishes or baking cookies, you would have never think you were standing in an old RV. Everything about the kitchen from the bright white cabinets, to the tile back splash on the stove, and the simple gold accents in the plant holders and clock, this kitchen could be on the front cover of a DIY magazine. The countertop was renovated from an old computer desk that they were able to repurpose and fit perfectly in the sink area. The kitchen is fully equipped with a large sink, oven, gas burner stove, microwave, and full sized fridge.
DETAILS
The power of colors and tile can make a world of a difference when it comes to aesthetics. This old RV bathroom was transformed by just swapping out the shower curtain and placing black and white petal tile behind the sink. These small changes cost them a penny and made this bathroom look good as new. They also added in some small finishing details such as a new faucet, golden nobs, refaced cabinets, white paint, a plant and a candle to freshen it up and make it feel even more like home. Little did you know, the shower was not replaced as it was still in perfect condition and the old yellow color could be hidden behind a beautiful new floral shower curtain.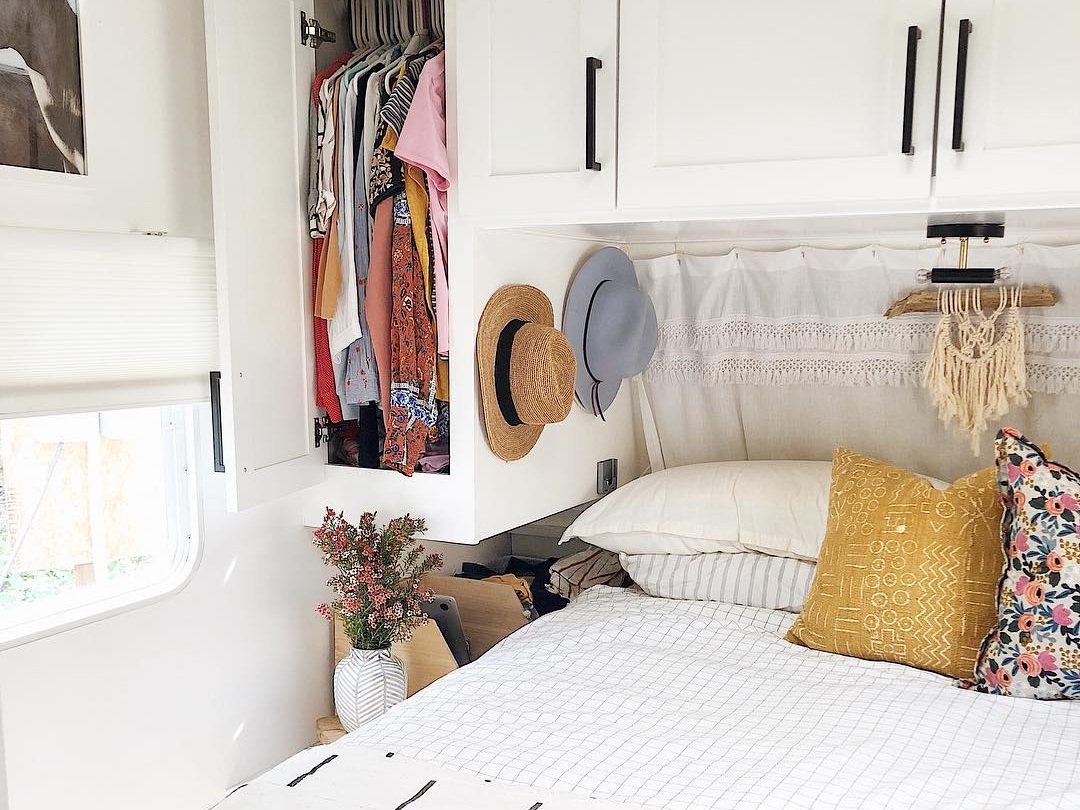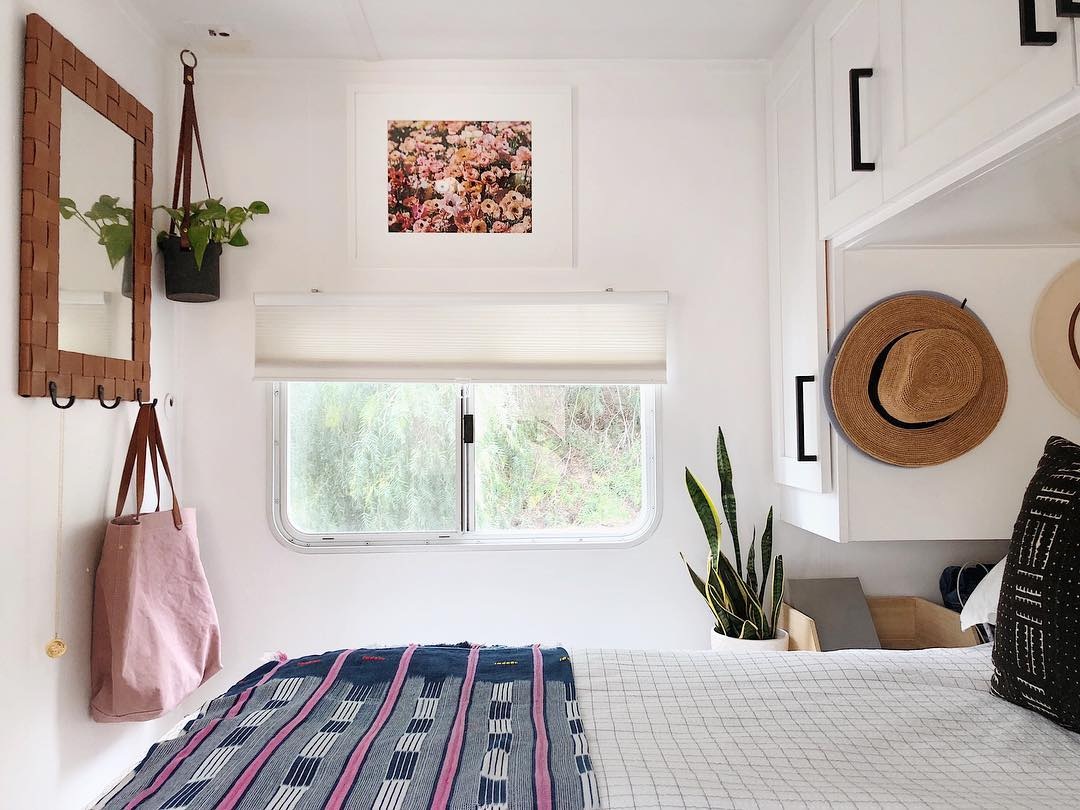 DETAILS
The master bedroom is tucked away in the back of the RV through a sneaky sliding gray door. The minute you walk into this space you feel like you're in a stepping into a cozy refreshing vista. The white cupboards and white bedspread bring a clean peaceful vibe as well as the makeshift headboard made from a white ruffled shower curtain, cotton dream catcher and green spring garland. The storage may seem small for two adults but believe it or not the bed actually lifts up to more storage access underneath. The mirror on the wall and windows on the side of the room bring a whole new depth, making the small space feel roomy and comfortable.
DETAILS
Because Ashley and Dino needed to accommodate not only for themselves but their three children, they needed to create as much living space as they could. The old storage cabinets above the dining area were ripped out to create a more spacious feel, as well as all the old seats/tables from the original space. They brought in all fresh new furniture and decorated the space with plants, colorful throw pillows and candles. They replaced the old light fixtures with black rustic ceiling lights and replaced the old flooring with light brown oak. One thing they didn't want to skimp out on was their coffee set up, so they created a whole corner/section of their space specifically dedicated to their coffee. Ashley says she'll spice up the space by changing up the throw pillow covers to keep their home feeling fresh and exciting. The simple things truly make a difference! They also made an outdoor patio by placing some outdoor rugs, seating, and a fire pit to relax around.