DETAILS
Laia and Aitor purchased a 2005 Peugeot Boxer in 2015 for 5,500 euros with the intention of using it for vacations and weekend getaways. After they took it on a trip to Portugal in the summer of 2016 and got their first taste of van life, there was no way they could go back to their old way of living. Shortly after they returned, they decided to take the leap, invest 9,500 euros into finishing the van conversion and hit the road. They are both able to work remotely - Laia as an illustrator and Aitor as a website designer. They also have their line of sustainable, natural, eco-friendly and cruelty free products called Eco Van Store that are geared towards the van life community and range from organic soaps to reusable silicone containers. They have been traveling all throughout Europe seeing places like Algarve and Morroco in their cozy camper van conversion.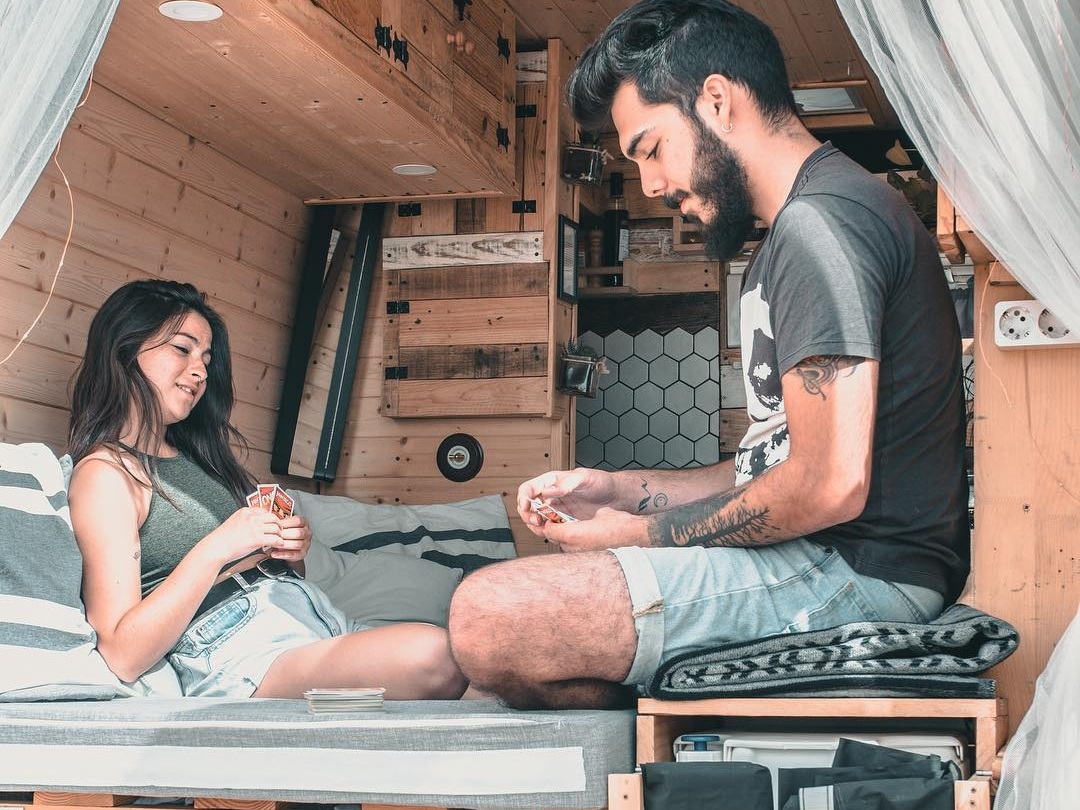 DETAILS
Because Laia and Aitor are both environmentally aware and live a green life, they decided to use repurposed wood for the entire interior aside from the tongue and groove paneling on the walls and ceiling. They used accents of black, white and gray against the bright oak creating a bright and inviting contrast. Because the couple wanted a more rustic feel, they used repurposed hinges and nobs. Laia and Aitor also installed some recessed warm LED lights on the ceiling that are powered by the solar panels on the roof.
DETAILS
Laia and Aitor cook most of their meals out of their van conversion, so they put significant thought into the layout and design of the kitchen. They didn't want to skimp out on the luxury of a full kitchen so their amenities range from a gas burner stove top, dometic fridge, to even a small microwave to whip up some popcorn on movie night. Their sink is fixated at the entrance of the van, separated from the stove, so someone can be cooking while the other is doing dishes without having to worry about intruding on eachothers space. They even used some antique handles on the faucet to enhance the rustic vibe. Above the stove area they installed a backsplash of beautiful white hexagon tiles along a side of repurposed tri color wood panels. The fan above the counter space acts as their ventilation to push the steam and smoke from their stove outside.
DETAILS
Although the van may look compact, Laia and Aitor have everything they need when it comes to their bathroom business. For showers, they have an outdoor shower hooked up to their 69 L water tank that they can use in warm weather. But they also have the shower head hose long enough so they can bring it into the van for staying clean during cold weather. Just a quick set up of their compact shower curtain and baby pool and bada-bing bada-boom, they have themselves an indoor shower. To drain out the water from the baby pool Laia and Aitor use a pump that sucks the water out and drains it into their waste water system. For their toilet, they have a compostable toilet hidden in a wooden box. The box was built specifically to fit the toilet inside and also function as a stool which they keep in the back of the van next to the bed.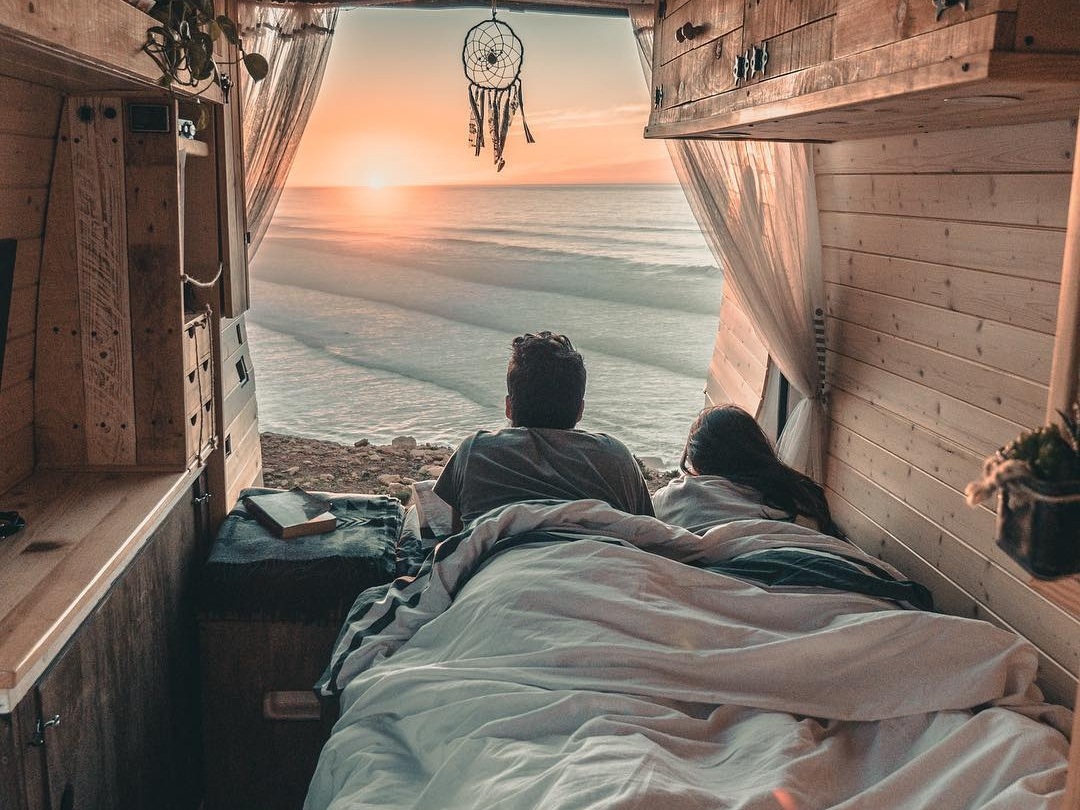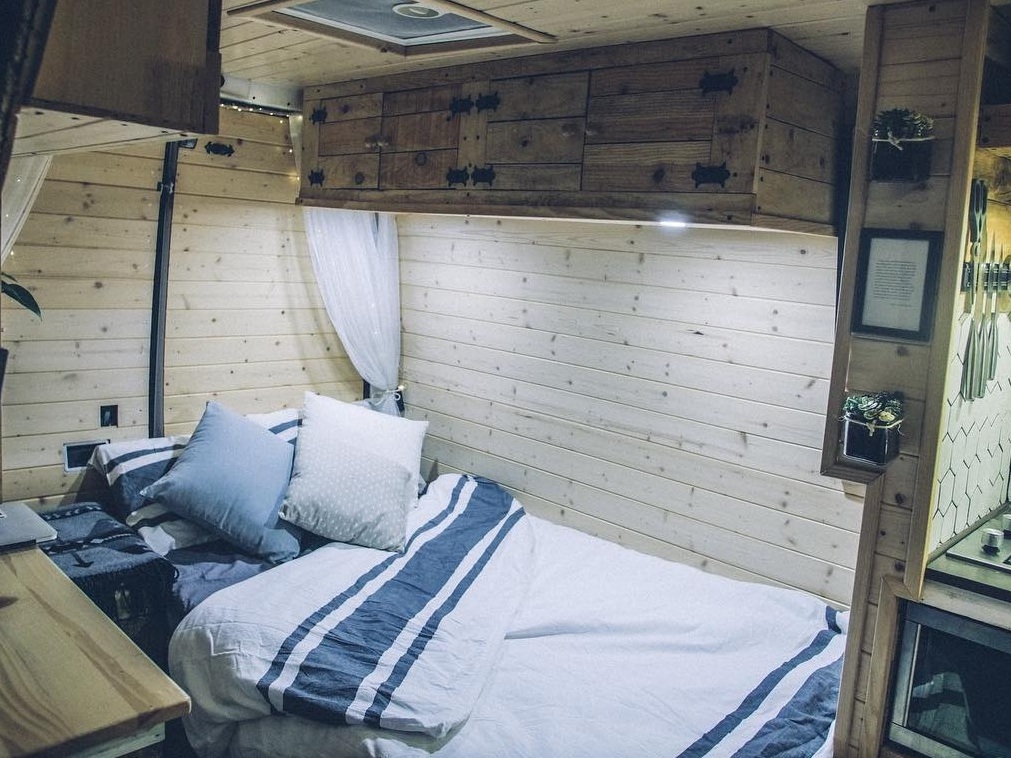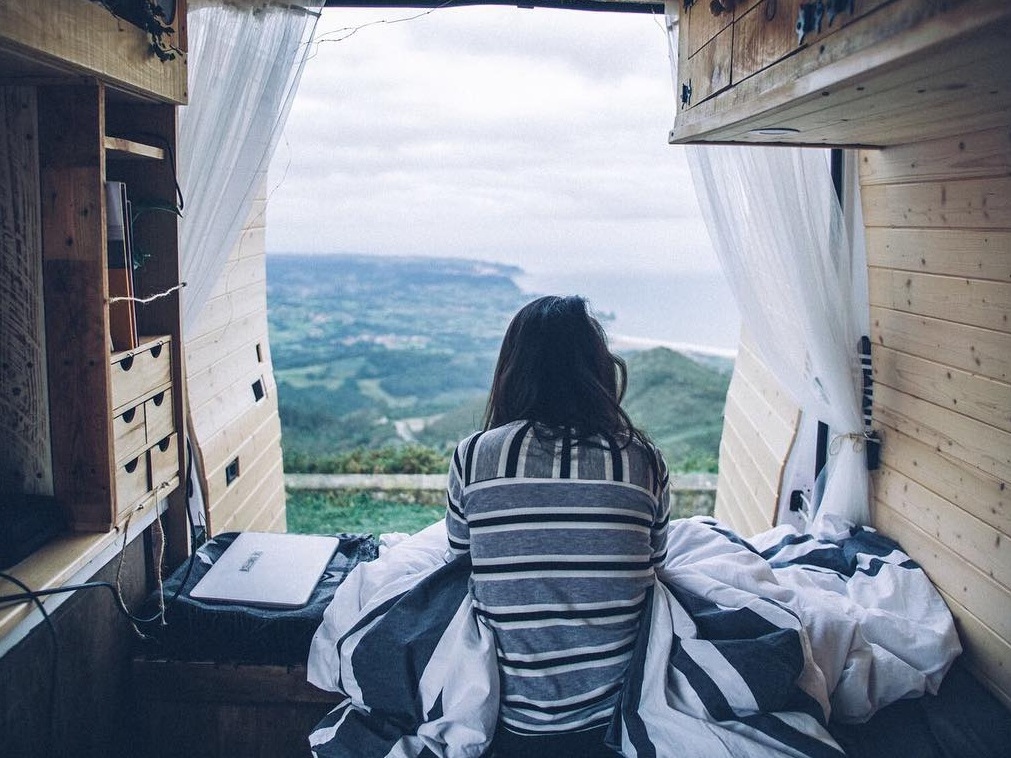 DETAILS
Laia and Aitor wanted to maximize their limited space so they built a bench that pulls out into an extendable bed quickly transforming the "living room" into a cozy bedroom. They also have storage just above the bench that holds their clothing, as well as some accent lights underneath the cabinets to brighten up the bedroom space. Because their bed is positioned in the back of the van, they're able to open up the back doors when the weather is in their favor and take in the beautiful views that surrounds them from the comfort of their bed. For cooler nights, they can enjoy viewing out of their custom designed port holes on the back doors to take in the natural beauty the surrounds them.
DETAILS
Because Laia and Aitor work on the road, they wanted to have enough space in the van to use as an office but also double as a comfortable sleeping area/cinema for relaxed living and hosting. Their entertainment center does't fall short of impressive. From the two speakers on the top shelf, to the small library and shelving to hold their precious valuables, it is obvious their hard work and handy skills shine through. The computer screen on the bottom shelf acts a monitor for computer work and also a TV when they want to enjoy a cozy movie night.
DETAILS
To power electrical circut in the van conversion, Laia and Aitor installed two 190 ah AGM batteries charged by 200 watts of solar panels on the roof. To power household appliances like the TV and microwave, the couple installed a 1600w Victron Energy inverter. To regulate the solar system they used a 20A Victron Solar charge controller